How it all started…
It was Katharina's mom that introduced her to horses, back when she was still living in Germany.
Katharina started with vaulting when she was 11 years old, which was a great foundation to gain balance and a feel for the horse. A couple years later she's added riding lessons.
Since then she's been hooked to the horse virus and over time, show jumping became her true passion.
She has never had made up horses. All her horses, which most of them came into training with her, were ridden and trained herself, of course with the support and guidance from some very great teachers.
While in Germany, Katharina competed up to the 1.35m (4 1/2 ft.) Jumpers, as well as up to 2nd level Dressage and Training Level Eventing.
She has earned her German silver medal in Show Jumping and her German Bronze Medal in Dressage and Show Jumping.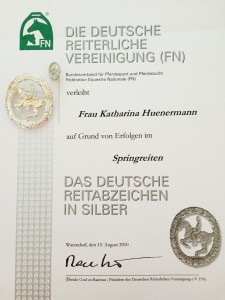 Since living in the US, Katharina has pursued her love for horses and competed her Holsteiner mare Water Lilly successfully in Eventing and Jumpers. She's also successfully bringing along her home bred (Oldenburg) gelding Q-Star in Dressage. He is by the well known Grand-Prix jumping stallion "Quite Easy" (who is by Quidam de Revel), out of her Arabian mare "Kandy", who is by Islamorada (Bask). She recently acquired the ride on another fantastic young horse, which she also competes in Dressage. Huck's American Legend is 1/2 Arabian, 1/4 Saddlebred and 1/4 Dutch Harness. Both of these young horses have very promising futures.
She had the chance to ride with clinican's like Jimmy Wofford, Buck Davidson and Lucinda Green.
Gigi Nutter, Jos Sevriens, Harrison Ford and Werner Geven and Glen Hartigan are the ones she is training with currently.
When her time allows it, Katharina is happy to share her knowledge in form of private lessons.
Check out the RIDING LESSON page for info on prices for lessons and training.
Have fun browsing through the pictures!