2016 Welsh/Arabian chestnut gelding
By Winterlake Tristan/North Forks Cardi
out of CNF Marteenna/Magneeto WLF+
SOLD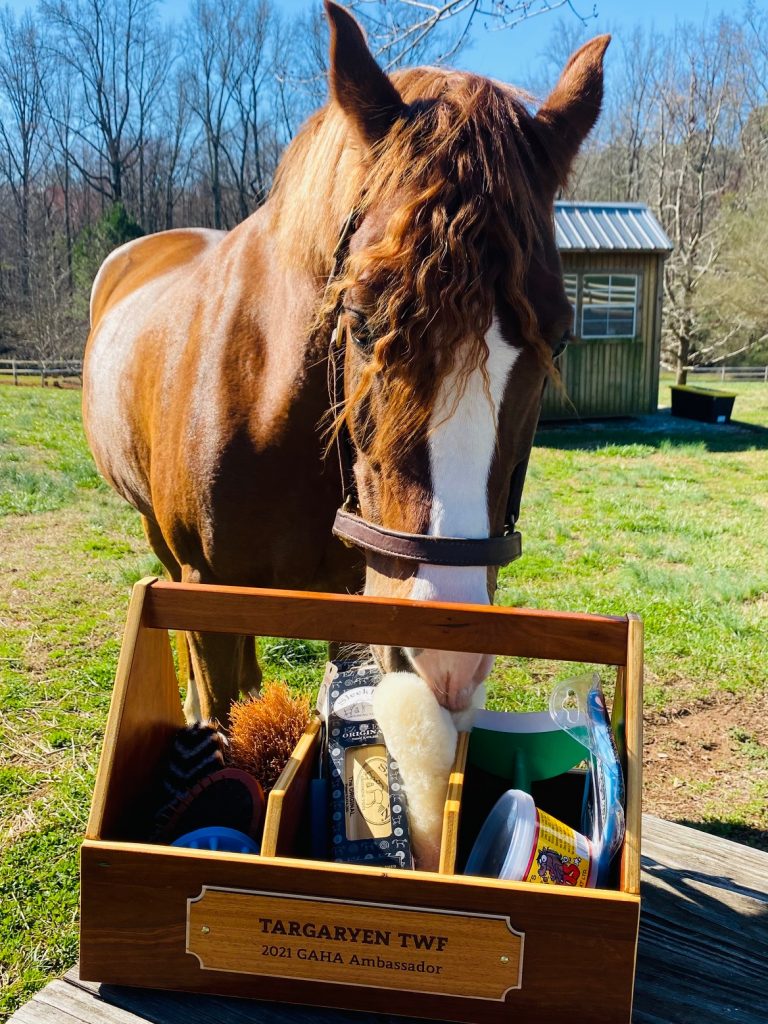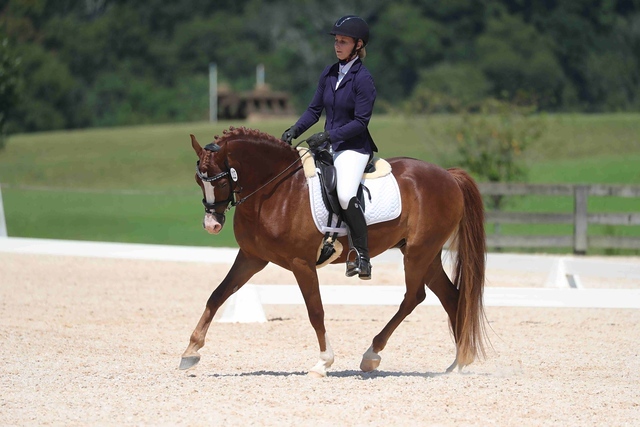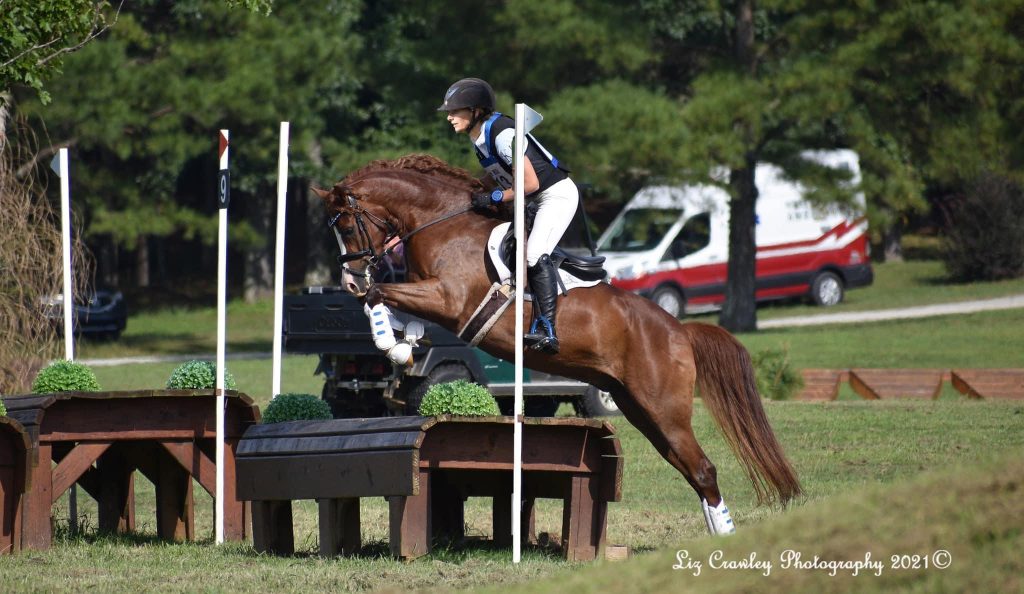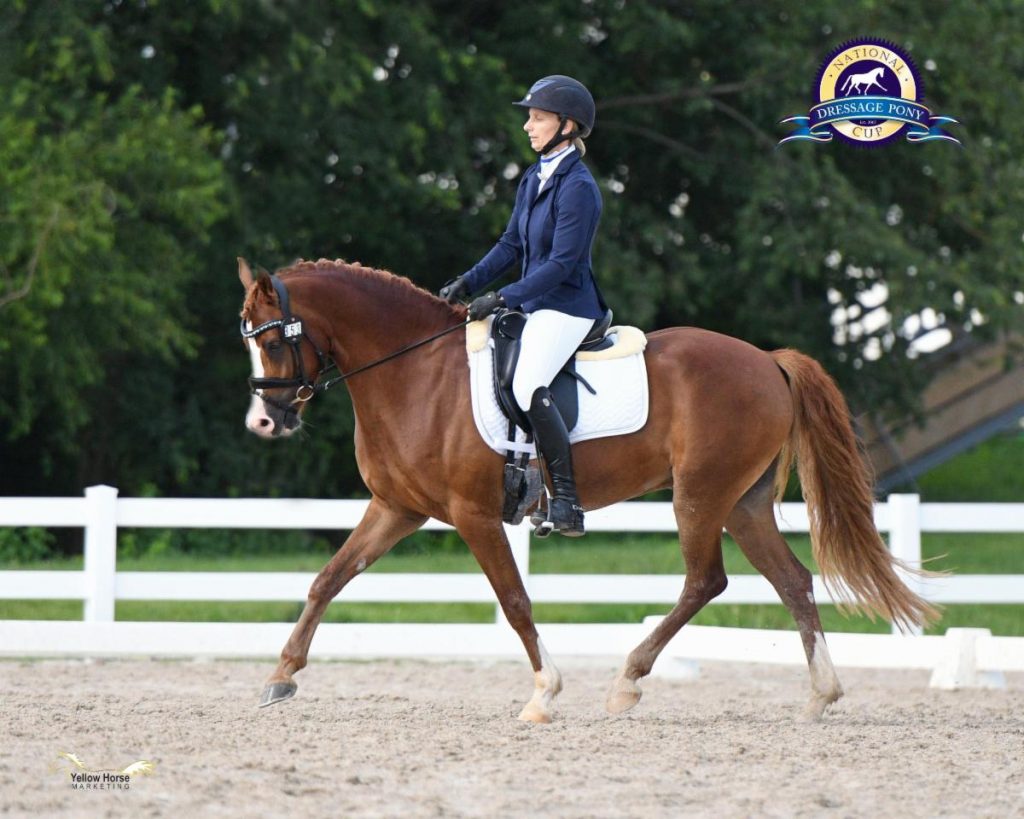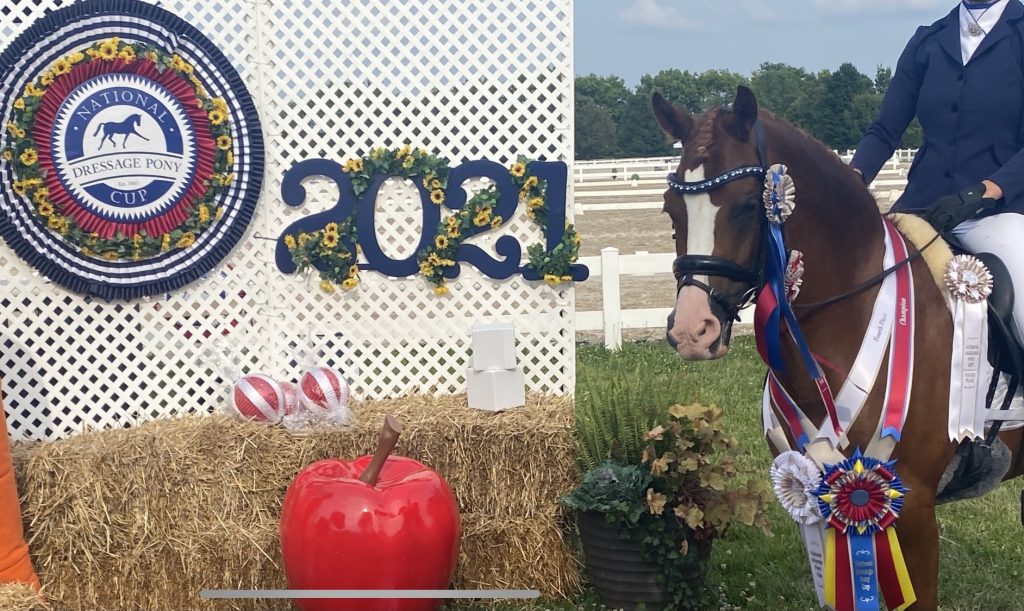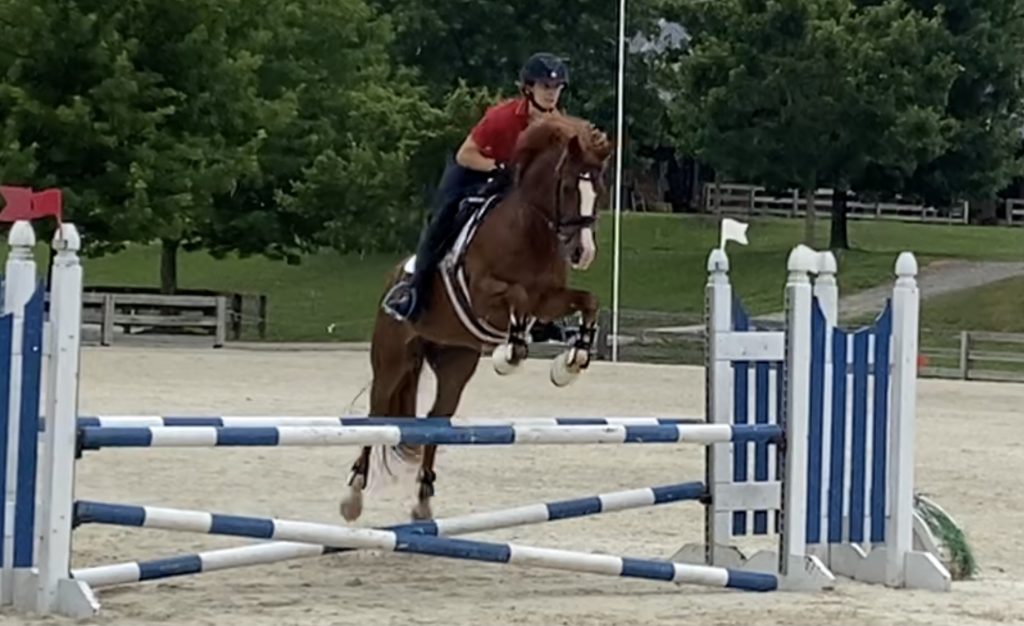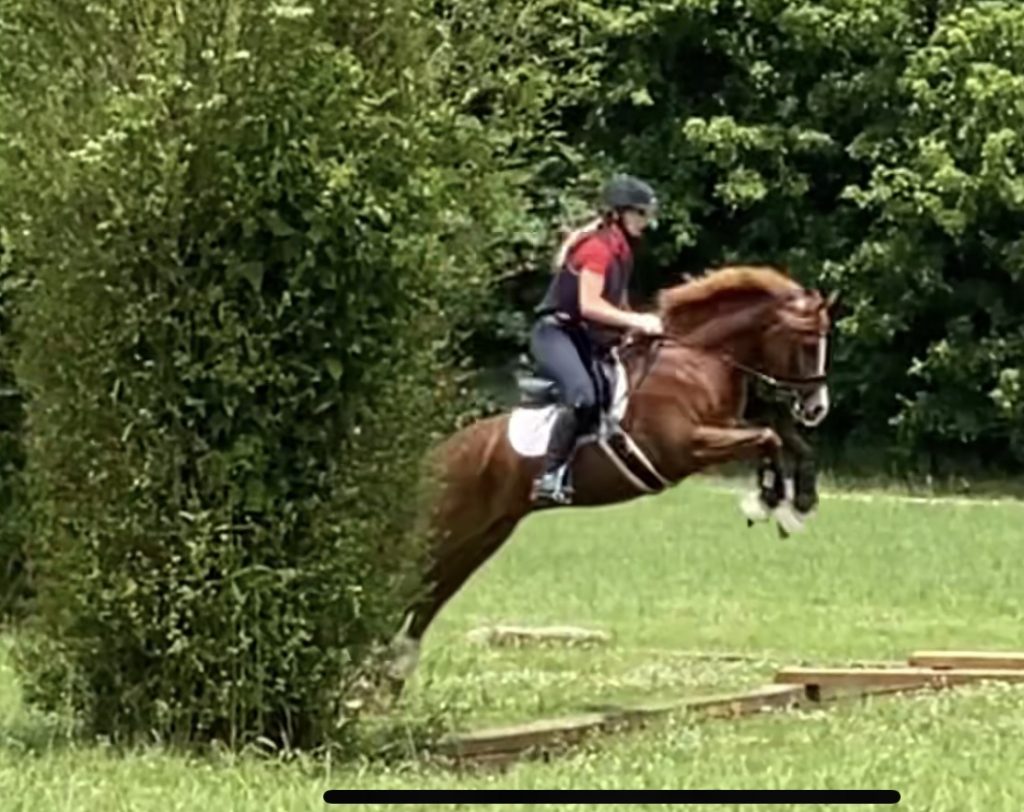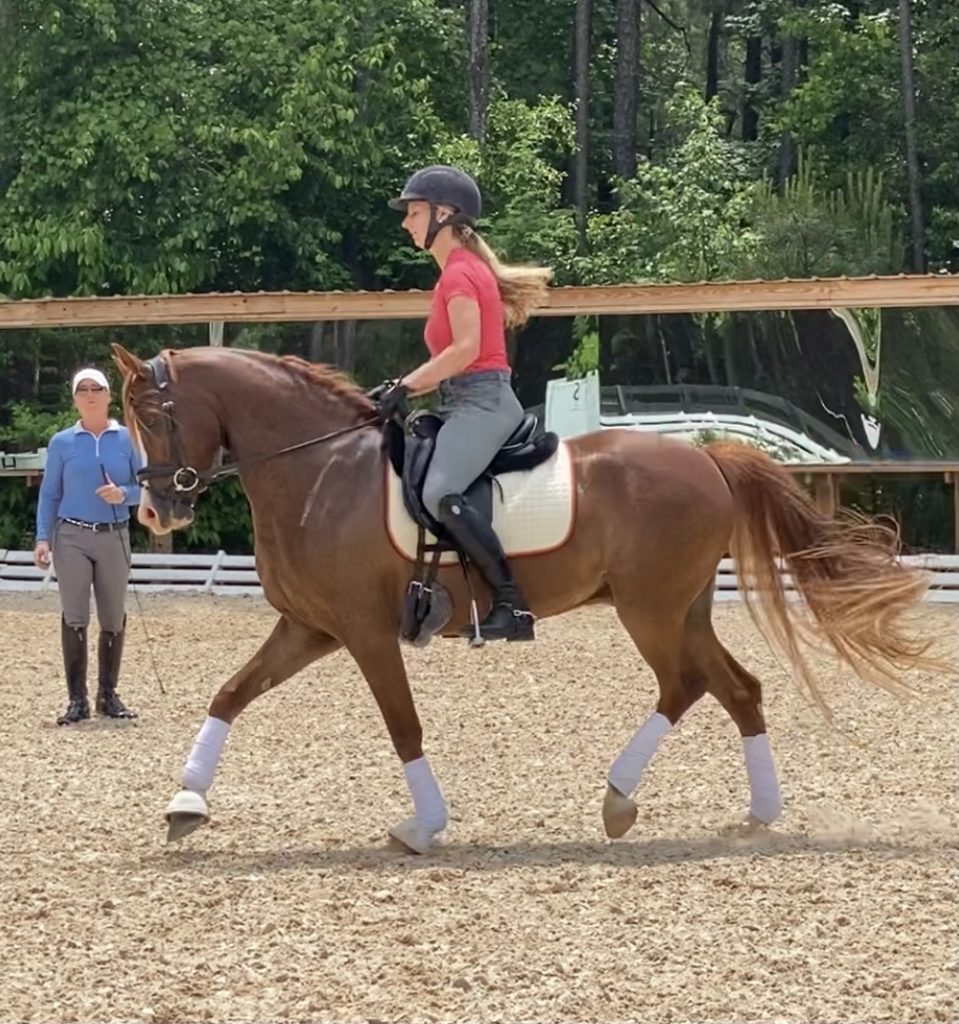 Gorgeous, super talented sport pony (148cm) with serious FEI quality and potential that can go in all directions of the sport.

Double registered with the Welsh Cob Society and Arabian Horse Association. Temporary USEF/USDF Pony Card valid till 7/15/2022.
Very successfully competing and winning in Open Dressage (First Level), Eventing (Novice) and Young Horse Shows as well as on the Arabian circuit.
Schooling 2nd level Dressage, Novice/Training XC and up to 1m -1.10m jumps.
2021 1ST PLACE BEGINNER NOVICE HORSE TRIAL WITH 23.3.
2021 NATIONAL DRESSAGE PONY CUP CHAMPION TRAINING LEVEL
2021 NATIONAL DRESSAGE PONY CUP 4TH PLACE FIRST LEVEL
2021 NATIONAL DRESSAGE PONY CUP BREED CHAMPION (HALF-ARABIAN)
2021 NATIONAL DRESSAGE PONY CUP FUTURITY CHAMPION
2021 1ST PLACE BEGINNER NOVICE ONE DAY HORSE TRIALS WITH 18.8
2020 DOUBLE CHAMPION YOUNG HORSE SHOW FINALS TRYON, NC
2020 1ST PLACE YOUNG EVENT HORSE QUALIFIER CHATTHILLS, GA
2020 GEORGIA ARABIAN HORSE AMBASSADOR AWARD (CLICK)
2019 ARABIAN SPORT HORSE NATIONALS TOP TEN SPORT HORSE IN HAND DRESSAGE
2019 REGION 12 CHAMPION SPORT HORSE IN HAND DRESSAGE & HUNTER
He would be the ideal partner for a small Adult Amateur or serious Junior rider with the goal of riding at the FEI level.
Extremely level headed with 3 wonderfully balanced gaits and rocking horse canter. Very soft mouth. Barefoot. Very careful over jumps. Absolute barn favorite!

For reference: I'm 5'6″ and weigh 125lbs. Teddy requires saddle size 16 or 16.5.
No trials – No trades – Exams to be on farm – 10% Deposit required prior to pre-purchase exam – Full payment required within 24 hours after exam.
Video – National Dressage Pony Cup 1st Level Test
Video – Schooling Novice/Training XC June 2021
Video – Schooling Novice SJ June 2021
Video – Schooling 2nd level May 2021
Video – Free Jumping
Video – Young Horse Show Qualifier Test July 2020
Video – Schooling XC June 2020
Video – Schooling XC May 2020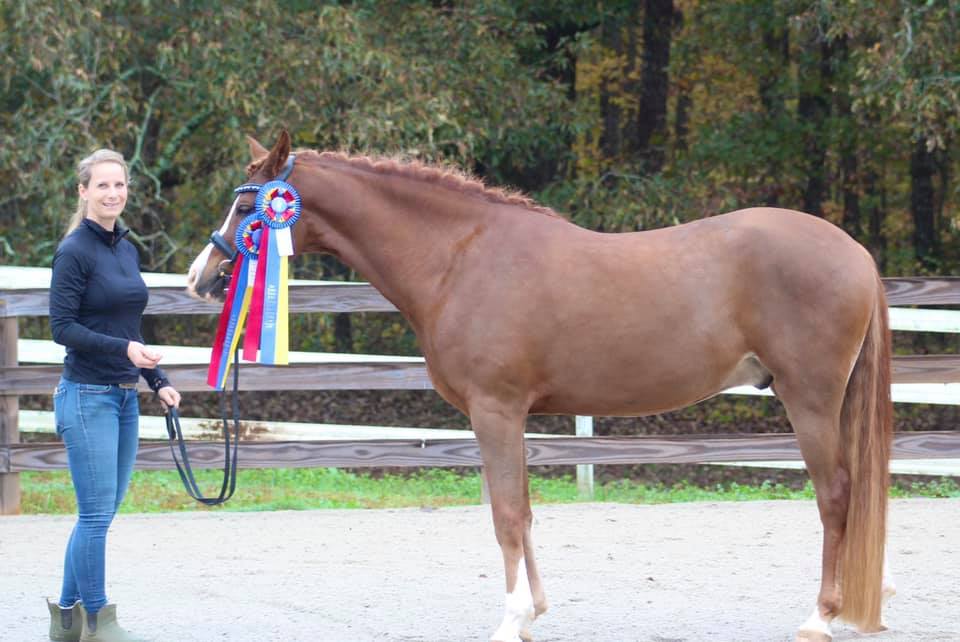 "Teddy" showcases the Welsh and Arabian breed in all their wonderful traits. He draws attention and gains fans and friends wherever he goes, no matter if it's little people, adults or professionals. His fan club is steadily growing. His quiet temper, inquisitive nature, courage and coolness are what make him especially worthy, most notable at his young age of only 5 years.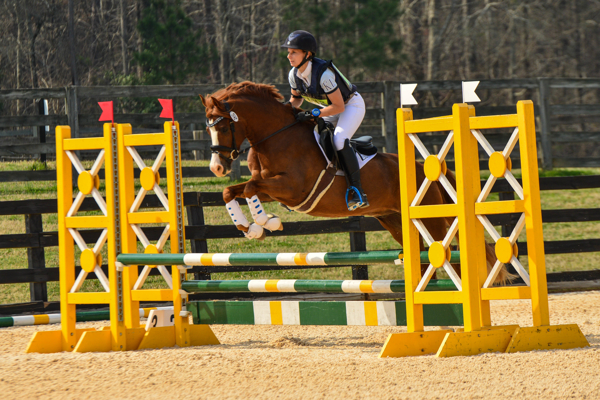 His character is exactly what you are looking for in a loyal partner. Brave, curious and absolutely level headed. A true show stopper wherever you take him.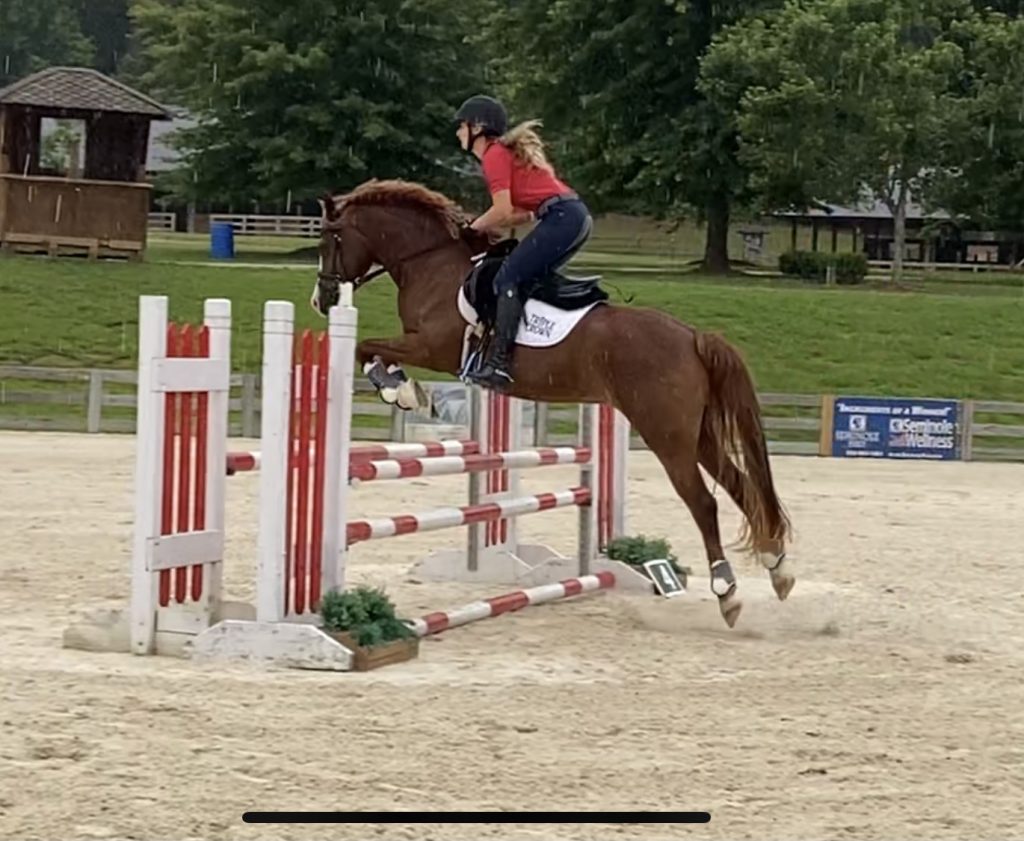 The accomplishments he has made in the past two years are quite respectable. From winning several Regional Championships in hand (Dressage and Hunter) in both the Open and Amateur division from bringing home a Top 10 National award in 2019, to conquering the Open Competition Circuit in 2020 with huge success.
His most notable wins in 2020 included the qualifier class for Young Event Horses (USEA) at Chattahoochee Hills (Novice Level) and Double Champion at the Young Horse Show Finals in Tryon (beating high quality warmbloods). He also brought home several blue ribbons in Training and First Level Dressage as well as some jumper classes. Teddy is well on his way of becoming a serious competitor. 2021 started off with a bang and Teddy won the 3-phase Beginner Novice division at Poplar Place Farm wire to wire with a very respectable score of 18.61. We competed at a Dressage show in April where Teddy scored in the 70's throughout First Level. In July we've went all the way to St. Louis, MO to compete at the National Dressage Pony Cup. Teddy brought home 3 Champion ribbons in Training Level, as best Half-Arabian and the best 5-year old. We were also awarded 4th place at First Level.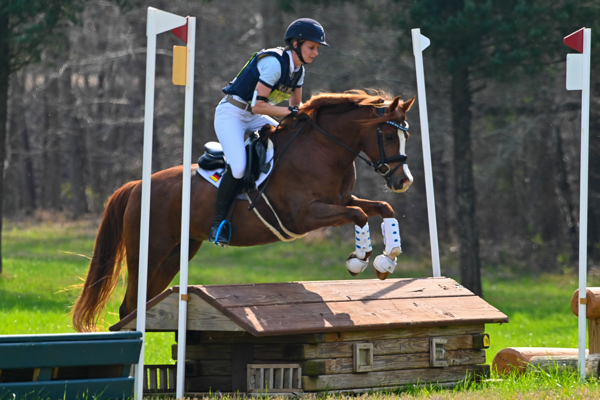 You just have to experience the "Teddy" magic.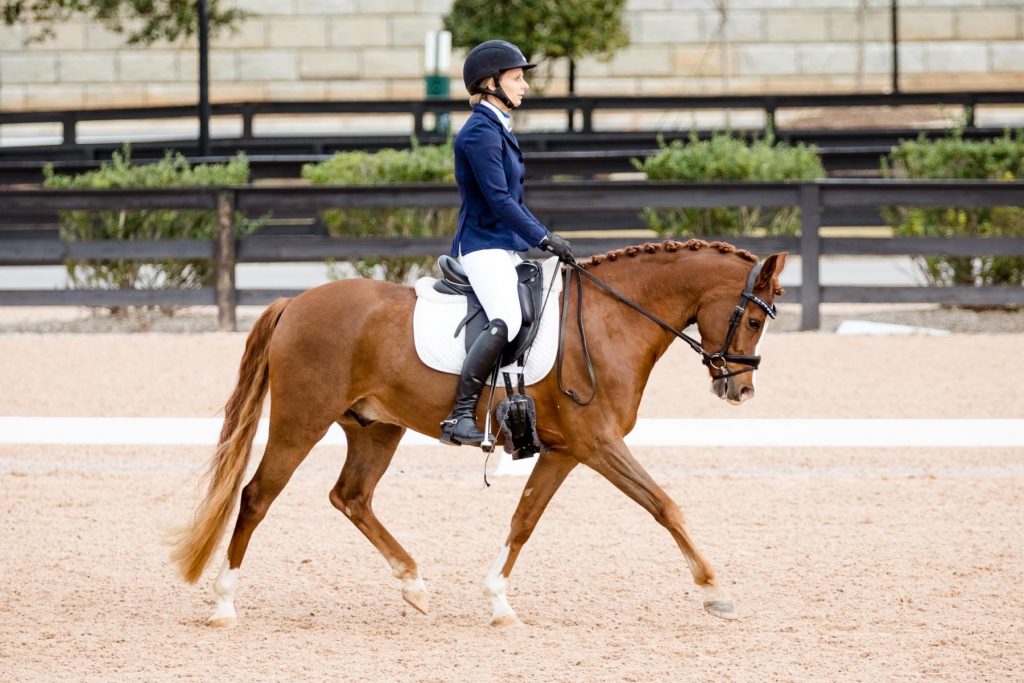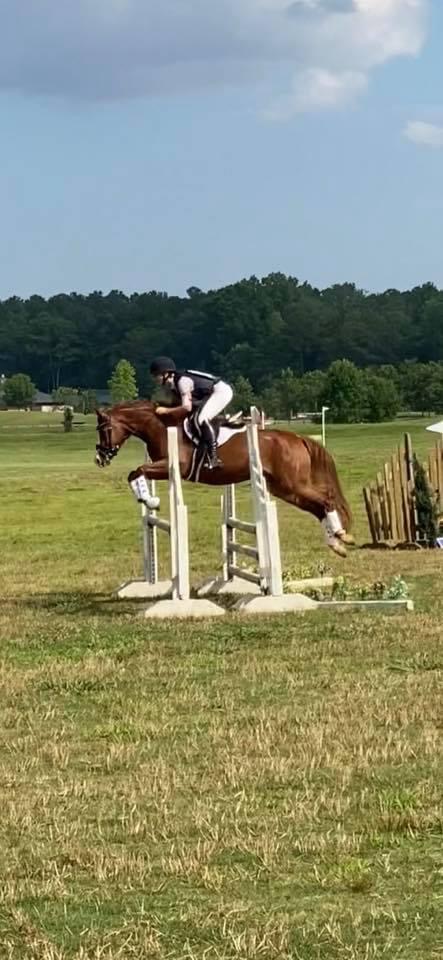 Lots of fans have been rooting for him and have named him the next "Teddy O'Connor" (Olympic pony under 3-day Eventer Karen O'Connor). What a co-incidence that his nick name is Teddy.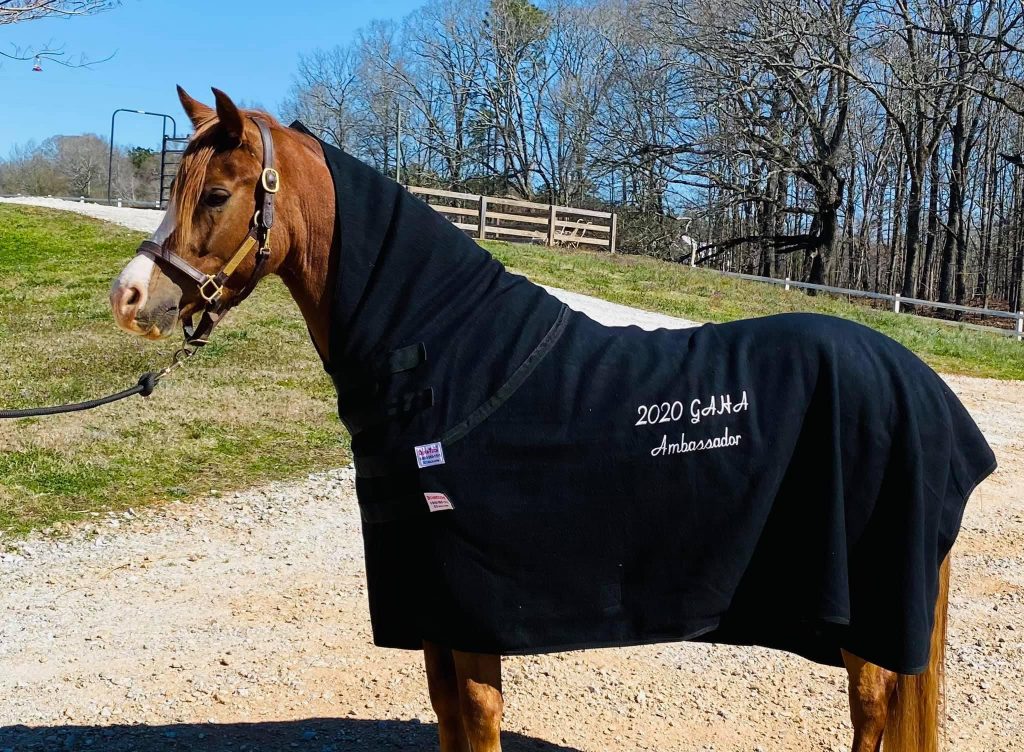 The media took note of him very soon and featured him on their website under "EN's [Eventing Nation's] got talent."
https://eventingnation.com/ens-got-talent-14-1-hand-targaryen-twf-wins-big-in-yeh-qualifier/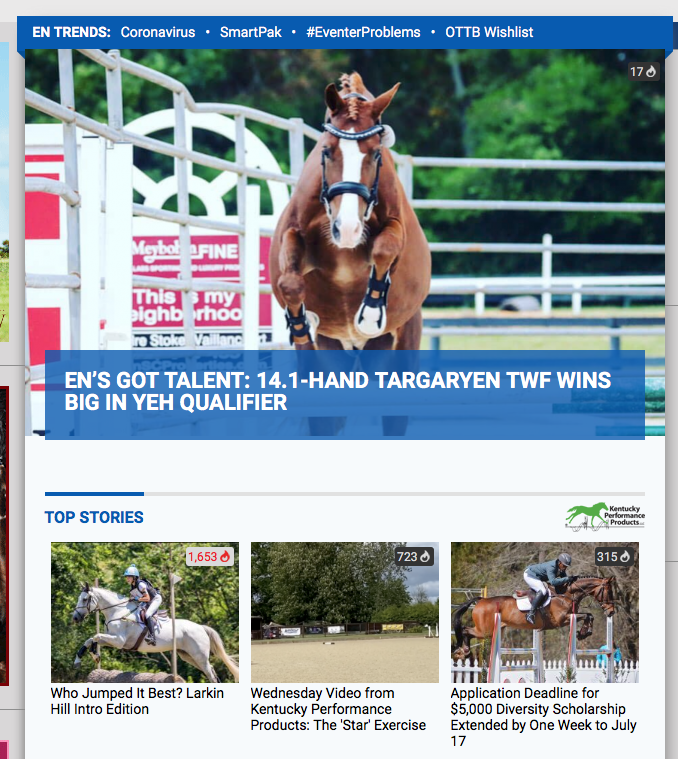 TEDDY also received a nice write up from the NATIONAL DRESSAGE PONY CUP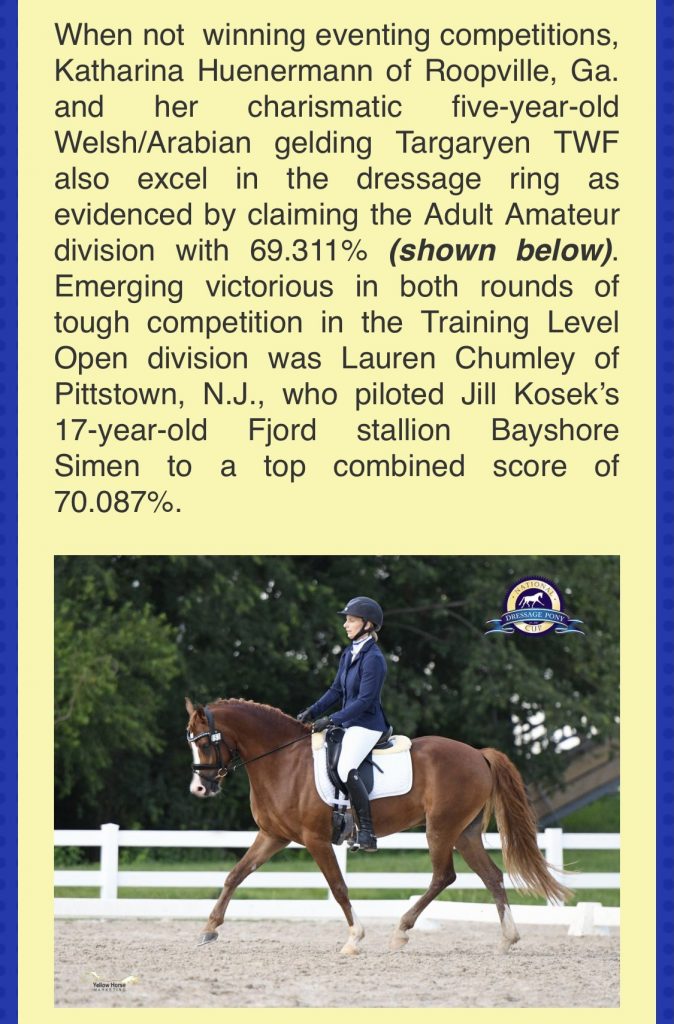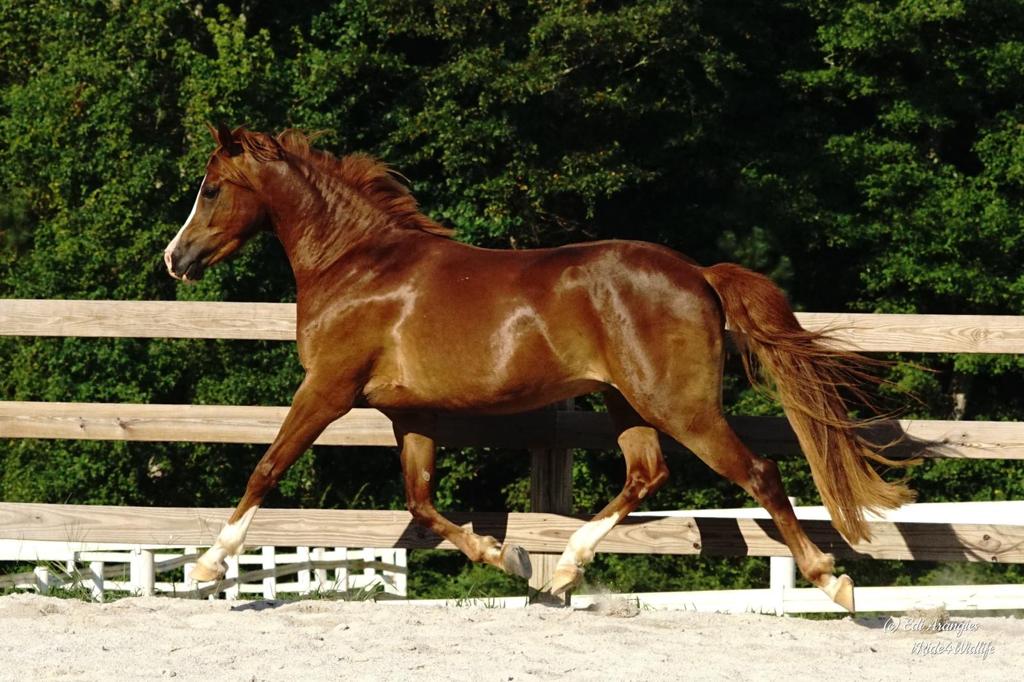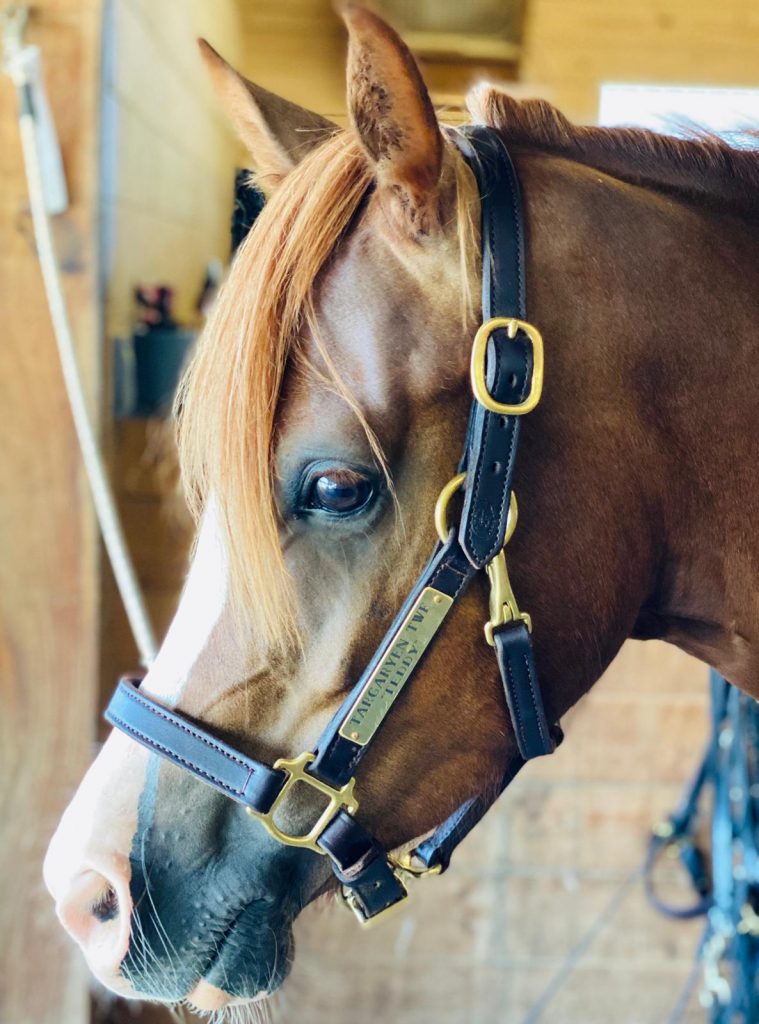 SIRE WINTERLAKE TRISTAN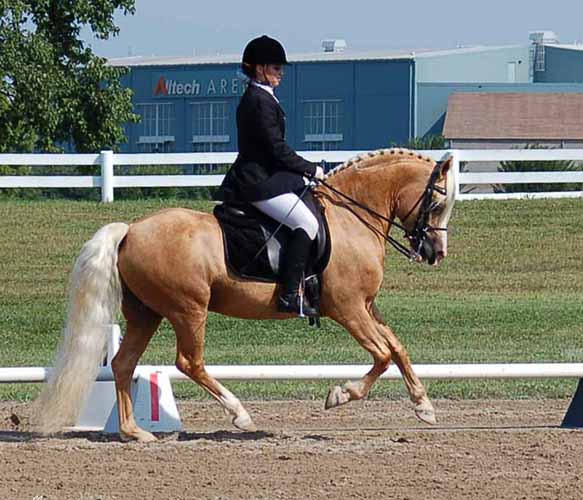 Teddy's Sire Winterlake Tristan aka Oky is a section C welsh pony. By North Forks Cardi out of Talywern legally blonde.
Oky is a multi time national and regional champion, including several USEF horse of the year placings and receiving many year end awards in multiple divisions.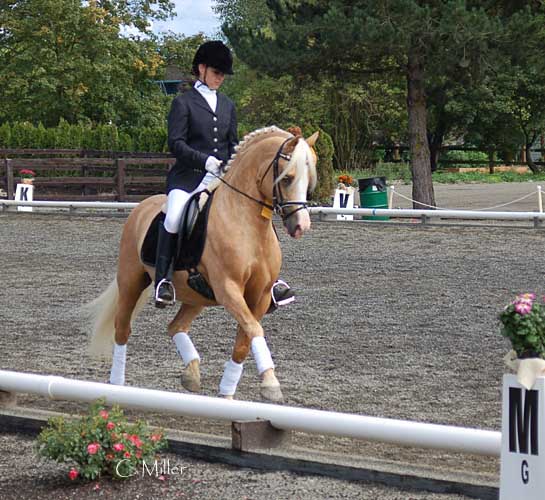 Oky has been very successfully competing in Dressage, Halter, Hunter, English pleasure and ridden cob. He is most recently showing FEI PSG and schooling all the elements of I-1.
His offspring are showing not only his wonderful temperament/personality but also have correct confirmation and are loaded with athleticism.
DAM CNF MARTEENA
Very well breed Arabian mare who was the East Coast Regional Reserve Champion Sport Horse in Hand. She has also done well in the dressage ring, over fences, and as a beloved lesson horse helping her young riders to learn new skills and gain confidence through positive experiences.
GRAND SIRE NORTH FORKS BRENNIN CARDI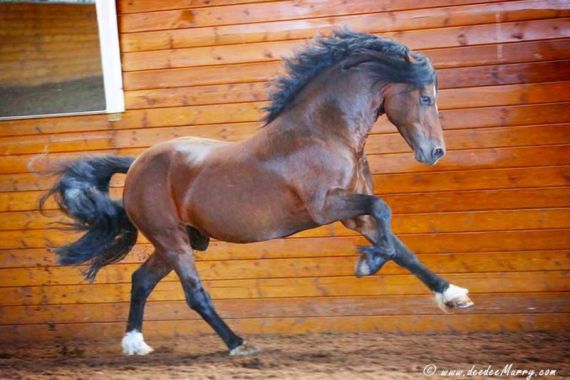 It was love at first sight—a magnificent-moving colt, powering effortlessly at his dam's side, hocks springing strong and high, neck arching up and reaching out from his strong shoulders, front legs shooting out straight, and a huge shy eye noticing where I stood at all moments. This was my first introduction to Carol Holcombe's colt out of her top mare, Hastening Mirage. The colt would be named North Forks Brenin Cardi—a future king indeed, decended from Welsh Royalty.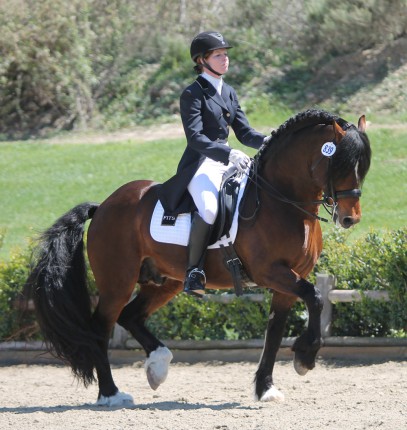 North Forks Cardi is a unique and extremely talented sport stallion. From his first inspection as a 2-year old where he was lauded as a "Fabulous stallion" to his RPSI scores last year of 8s and 9s, he has proven that function follows form. Cardi is an exceptional representation of sporthorse type, correct suspended movement, kind character and exceptional offspring.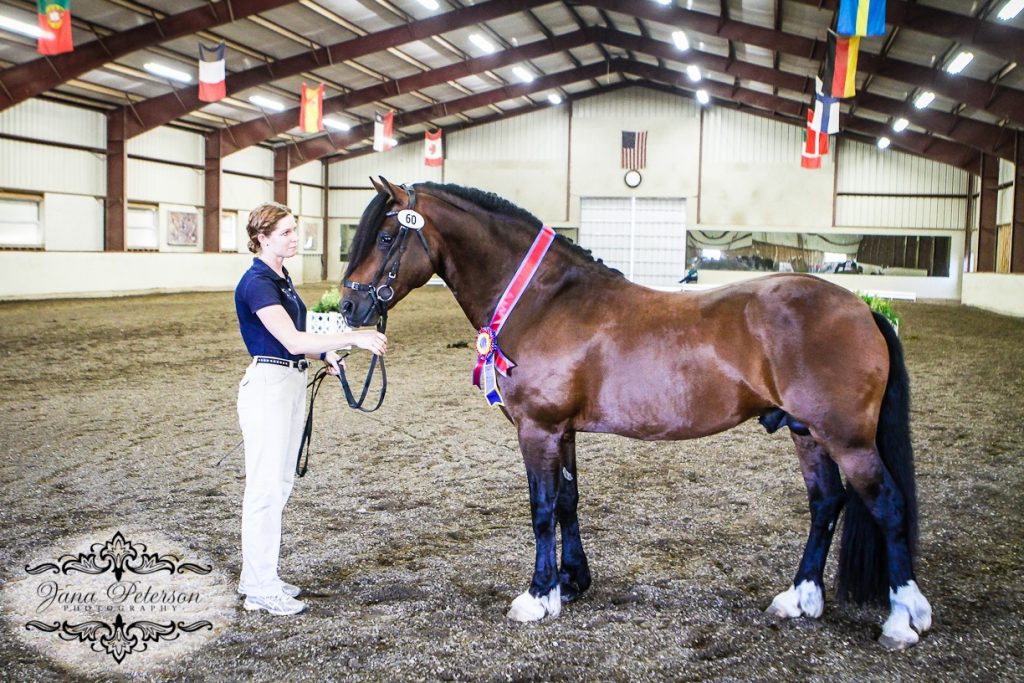 As a 3-year old, he began his show career at Training Level and has won multiple championships at every level through Grand Prix Musical Freestyle with co-owner and trainer Jessica Wisdom. His 2009 season culminated with cross-country travel to Dressage at Devon in Pennsylvania—3,081 one-way miles—and making his mark in the famed Dixon Oval. He is currently schooling Grand Prix as well as leading a full life of interesting activities: cross training on the eventing fields, free jumping, cow penning, swimming, trail riding, and used as the occasional lesson horse and demo boy for Jessica's in-hand schooling clinics. Our goal is to have a happy horse who enjoys his work and play.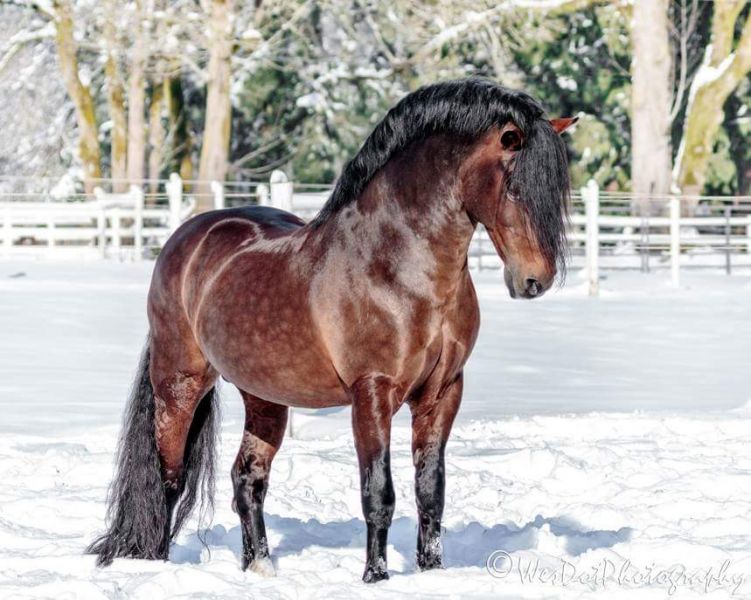 After the phenomenal 2014 show season, Jessica and Cardi geared up for their last competition year together. Cardi was 14 and in the prime of his life. This dream duo won and qualified for Region 6 championship show for GP and GP Freestyle, which they won. Overall, they landed at 18th place nationally for the Grand Prix.
By the end of the 2014 show season that began with three California shows in March and April then moved to the NW for Washington and Oregon Dressage shows, Team Cardi qualified for and won championships at Grand Prix at the Region 6 Championships in Nampa, Idaho. After ending on such a high, Jessica and Cardi decided to go all in and travel to Lexington, Kentucky October 7-8 for the National Dressage Finals. Champions and competitors for all regions around the U.S. attended this huge show.
The biggest win for Jessica and Cardi was dancing to the Celtic tunes choreographed by Karen Robinson at the National Dressage Finals in Lexington on October 8, 2014. Team Cardi scored over nine other horses and riders to win the top honors with a 71.375%. I took this video by filming the on-screen test from the USDF online link; it now has over over 73,000 hits. He also won 3rd place in the GP test.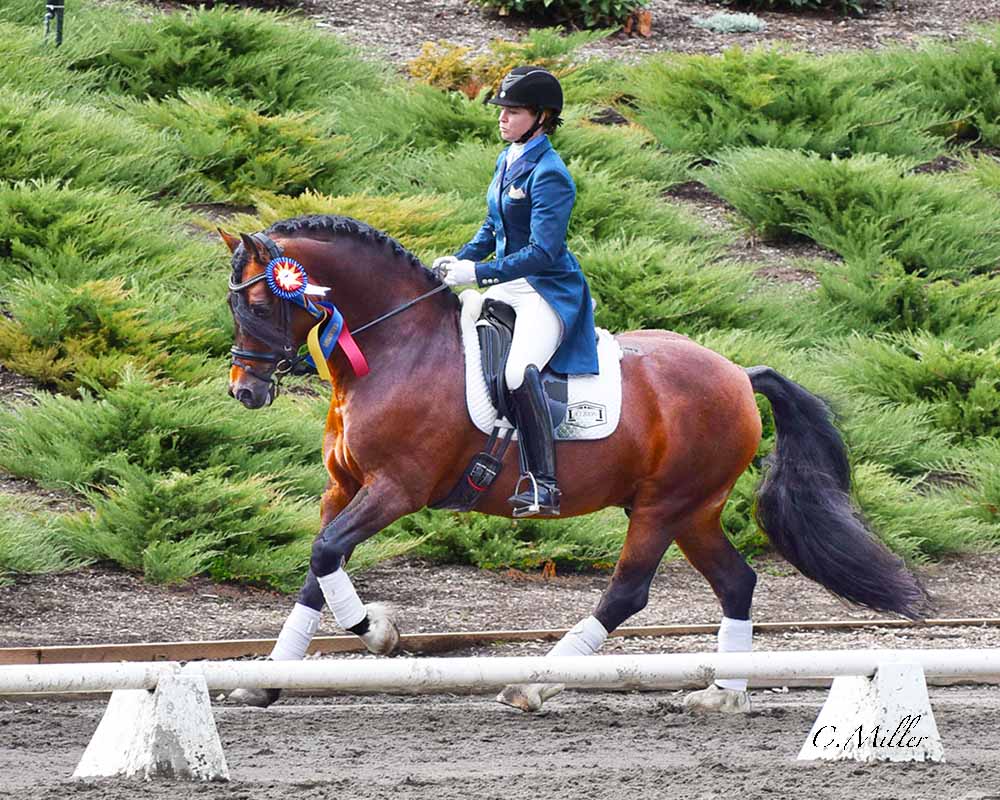 In 2013 Cardi competed for the first time at Grand Prix in a CDI at San Juan Capistrano in April and scored a best of 68%. Cardi & Jessica won four Intermediaire II tests during their California tour at Festival of the Horse and the Golden State Dressage Show in April, 2012, with a best score of 67.2%. During the Oregon Dressage Society's Fall Festival, Cardi was awarded the coveted 'Ambassador of the Year' award. In conjunction with being entered in the ODS Hall of Fame, Jessica and Cardi were accepted to ride in a a clinic with Steffen Peters. During the clinic, Steffen mounted and took Cardi through his one-tempi changes and his piaffe.
Debbie McDonald Clinic, January 2009
"He's fancy! …Think of your walk…it's an excellent walk… Boy, he is really something… He can compete with the best of them. … You know, he's going to have an amazing passage and piaffe, he really is! He's really special… We should have a little Brentina.
FULL SISTER
Teddy's full sister Sophie Joy, who was born in 2015, is successfully competing in Working Equitation with a para-rider.