VACATION RENTALS – The Cure For Hotel Headaches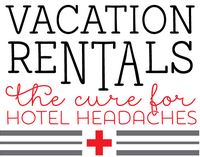 Vacations are always something to look forward to. The obvious choice for lodging is a hotel. They're fairly easy to find and are usually in the heart of most travel destinations. But between the annoying hidden fees, exorbitant food costs, and suspect cleanliness (not to mention the scarce availability in remote locations) staying in a hotel can be a real pain. Instead a vacation rental is a great option to save money and to cure some of that headache. With amenities like a full kitchen, one can save on eating out, too. Not to mention there is more room, which means more people can come along and split the cost.
Take a look below at some key areas where a vacation rental would be smart, preferred alternative to a hotel.